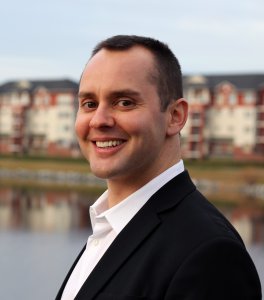 Meet Jesse Sinclair
Jesse Sinclair understands that Real Estate is about people. It's about people making an investment for the future. It's about people finding that perfect home to raise their family. It's about people purchasing a quality property at a fair price.
That focus on people has been at the heart of Jesse's success since he opened the door to the world of Real Estate in 2001, and it is at the heart of his practice today as a successful Realtor & Associate Broker at RE/MAX Real Estate (Central) in Calgary.
"I like the idea of Real Estate as an investment for both today and the future. The best thing someone can do for their financial well-being is to become a home owner. The sooner people can begin paying off a mortgage in a home they love, the sooner they can set themselves up for long term success."
For Jesse, Real Estate has always centered around family. He was inspired to become a Realtor when he saw his mother purchase her first home, and has since become a mentor to his long lost brother. So he understands the importance of every purchase and every sale, and is committed to service that continues well beyond signing on the dotted line.
"When a family is moving it's not only a physical move, but also a life transition. I've helped hundreds of people over the years; first time buyers, recently married couples, growing families, empty nesters, and I've seen almost everything you could encounter. The thought of making a move can seem daunting or even overwhelming, I understand that and I value and respect the trust and confidence my clients place in me."
Jesse brings an expertise to his work that can only come with experience, and with understanding all facets of the Real Estate business. Jesse's primary focus is providing strategic marketing strategies for home sellers, as well as locating, evaluating, and negotiating the purchase of residential homes and condominiums.
Since being licensed as a Realtor, Jesse has completed the Real Estate Brokers program, performed Residential/Commercial property management services as an employee of Canmore's largest property management company and been the Broker and co-owner of his own real estate company. His expertise includes home seller representation, online marketing, move up buyers, empty nesters, retirees, first time buyers, home builders, CCS Certified Condominium Specialist, investment properties, relocations, building design, foreclosures, residential lots, and purchase plus improvement.
"I've been fortunate enough to work with an ever expanding network of return and referral clients."
Jesse is a member of the RE/MAX 100% club, RE/MAX Hall of Fame, a proud supporter of the Children's miracle network and is a member of Shriners International, a philanthropic organization supporting Shriners Hospitals for Children.
Website information
I have designed my web site with your interests in mind. Drop me a line, I'd love to hear your thoughts!
I am dedicated to selling your home or finding you that dream home you are searching for. You are invited to browse my website and call, text or e-mail me with any questions you have about buying or selling a home in the area.
Buying a home?
Your satisfaction is my top priority! I will take the time to listen to your needs and desires and help you find your dream home. Contact me now
Selling your home?
I will get your home sold for top dollar and in a timely manner. My online and offline marketing programs give me the edge needed to make this possible. Contact me now